Flute Repair in Austin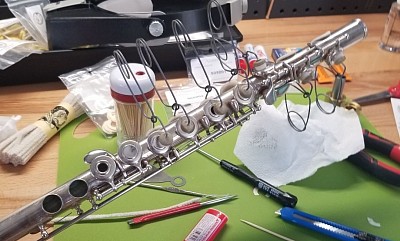 Quality Materials and Attention
   Thomas has repaired flutes from all over the world with all different needs. As a result, it doesn't matter if a flute has been in the attic for 50 years or just needs an annual COA. Using only the finest tools and materials, he can bring each and every flute back to life.

   Thomas studied flute repair in 2008 with Jon Landell at the Vermont Guild of Flute-Making. After studying under Landell's tutelage, he received both padding and overhaul certificates. Immediately following his training, he repaired flutes for fellow conservatory students and private clients. After gaining some major repair experience, from 2012-2014 he repaired flutes for Maarten Visser at De Fluitstudio in the Netherlands, an international flute business specialized in making instruments for people with physical limitations.
2022 Shop Rate - $45 Per Hour
**Repairs are done by appointment only. Please contact Thomas to set up a time that works for you.**
   Shown below are estimates and explanations for the most common types of flute repair. A more accurate estimate is given after inspecting each particular flute.

Clean, Oil, Adjust
   A COA is a basic service generally done on any flute every 6-12 months. Student flutes are done closer to the 12 month mark and professional flutes closer to the 6 month mark. A flute that goes longer than 12 months without a COA will find itself in a similar state to a car that goes too long without an oil change. Regular COA service will prevent more expensive repairs further down the road.
The service includes:
   Flute headjoint, body, and foot cleaning,
mechanism adjustment, cleaning and oiling the mechanism, optional headjoint cork replacement, and basic pad adjustments. 
$50-$80 For a regularly maintained flute.
Average time needed per flute: 1-7 days

Overhaul
   A flute overhaul completely restores the instrument. After an overhaul with Thomas, flutes come out the same as or even better than they did from the factory. 
The service includes:
   Taking out dents and scratches, machine polishing the headjoint, body, foot, and mechanism, adjusting the mechanism, cleaning and oiling the mechanism, replacing all corks and felts, and putting in all new pads.
Student Flute Overhauls +/- $350
Felt Pad Overhaul +/- $750
JS Schmidt Gold Pads Overhaul +/- $900
Felt Pad + Stabilizer Overhaul +/- $950
Average time needed per flute: 2-10 days

À La Carte: 
Every flute is different and each one needs individual inspection for accurate pricing. Rough estimates are shown below:
Dent Repair: $25+

Bent Key: $5-$35+
Broken Spring Repair: $15 - $30
Replace Headjoint Cork: $15
Torn/Leaking Pad Replacement: $15 - $35+
Tenon Adjustment: $15+
Screw Adjustment: $5 - $15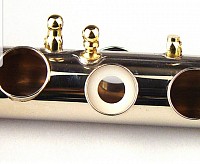 High E Facilitator Installation 
The Valentino High E Facilitator (a.k.a. "donut" or poor man's split-E) is an option that may help tame the high E on the flute. This note can be problematic, as it tends to respond stubbornly and sound stuffy and out of tune. Installation: $75