Flute Repair in Austin or by Mail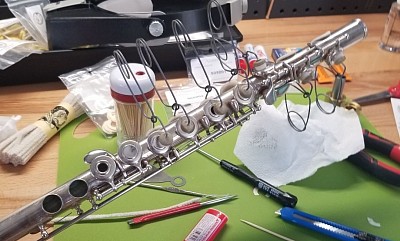 Repairs shipped from "out-of-town" receive 10% off!!! 
    Thomas is a flute repair technician, meticulously breathing life into instruments from across the globe, each with its unique demands. He excels in reviving neglected treasures discovered in dusty attics, performing essential maintenance like Clean, Oil, and Adjust (COA) or comprehensive overhauls, employing top-tier tools and materials. Thomas's proficiency in flute repair shines through his continuous training and mentorship with Jamie Espen, a testament to his dedication to his craft.
   In 2008, Thomas embarked on his flute repair journey under the tutelage of Jon Landell at the Vermont Guild of Flute-Making. During this period, he acquired certificates in padding and overhaul techniques, delving deep into the intricacies of flute restoration. Post-training, Thomas wasted no time, promptly offering his expertise to fellow conservatory students and private clients, honing his repair skills through hands-on experience.
   To further broaden his horizons, Thomas sought additional training from 2013 to 2014 at the renowned FluteLab in the Netherlands, a distinguished flute enterprise known for crafting instruments for individuals with physical limitations. Under the guidance of Maarten Visser, Thomas fine-tuned his repair skills and worked on a diverse array of flutes.
   Thomas's unwavering dedication to his craft and his steadfast commitment to delivering exceptional flute repair services solidify his reputation as a reliable and skilled professional in the field. His expertise becomes evident in his remarkable ability to resurrect flutes, allowing musicians to once again bask in the exquisite sounds and artistry of their cherished instruments.
2023-24 Shop Rate - $83 Per Hour*
Repairs are done by appointment or by mail only. Please contact Thomas to make arrangements.
   Shown below are estimates and explanations for the most common types of flute repair. A more accurate estimate is given after inspecting each particular flute.

À La Carte: 
Every flute is different and each one needs individual inspection for accurate pricing. Rough estimates are shown below:
Dent Repair: $30+

Bent Key: $10-$40+
Broken Spring Repair: $5 - $35
Replace Headjoint Cork: $27
Torn/Leaking Pad Replacement: $20 - $40+
Screw Adjustment: $5 - $20

Clean, Oil, Adjust
   A COA (Clean, Oil, Adjust) is a fundamental service typically recommended for flutes every 6-12 months. Student flutes usually benefit from a COA closer to the 12-month mark, while professional flutes may require it around the 6-month mark. Similar to a car that suffers from neglect without regular oil changes, a flute that surpasses the 12-month interval without a COA can experience issues. By ensuring regular COA servicing, more costly repairs can be prevented in the future, saving both time and expenses down the road.
The service includes:
   Flute headjoint, body, and foot cleaning, hand polishing the body, headjoint, and foot joint, mechanism adjustment, cleaning and oiling the mechanism, optional headjoint cork replacement, and basic pad adjustments. 
Marching Flutes - $110
Student Flutes - $155 
For flutes retailing around $1,000 or less when new.
Step-up Flutes - $192
(Yamahas 400 & Higher, Powell Sonares, Haynes Amadeus or Ghirardelli, Altus Azumis, etc...)
Professional/Handmade Flutes - $250
Average time needed per flute: 3-7 days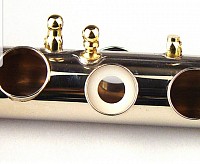 High E Facilitator Installation 
The Valentino High E Facilitator (a.k.a. "donut" or poor man's split-E) is an option that may help tame the high E on the flute. This note can be problematic, as it tends to respond stubbornly and sound stuffy and out of tune. Parts & Installation: $85
Overhaul
   A flute overhaul completely restores the instrument. After an overhaul with Thomas, flutes come out the same as or even better than they did from the factory. 
The service includes:
   Taking out dents and scratches (as much as possible on plated flutes), polishing the headjoint, body, foot, and mechanism, adjusting the mechanism, cleaning and oiling the mechanism, replacing all corks and felts, and putting in all new pads.
Student Flute Overhauls +/- $467
(Student Flute Repad +/- $302)
For flutes retailing around $1,000 or less when new.
-
Step-up Flute Overhauls +/- $930
(Step-up Flute Repad +/- $770)
(Yamahas 400 & Higher, Powell Sonares, Haynes Amadeus or Ghirardelli, Altus Azumis, etc...)

-
Professional/Handmade Flute Overhauls   are charged for at the shop rate of $83 per hour and typically take 20-25 hours over a few weeks to complete.

Average time needed per flute: 7-21 Days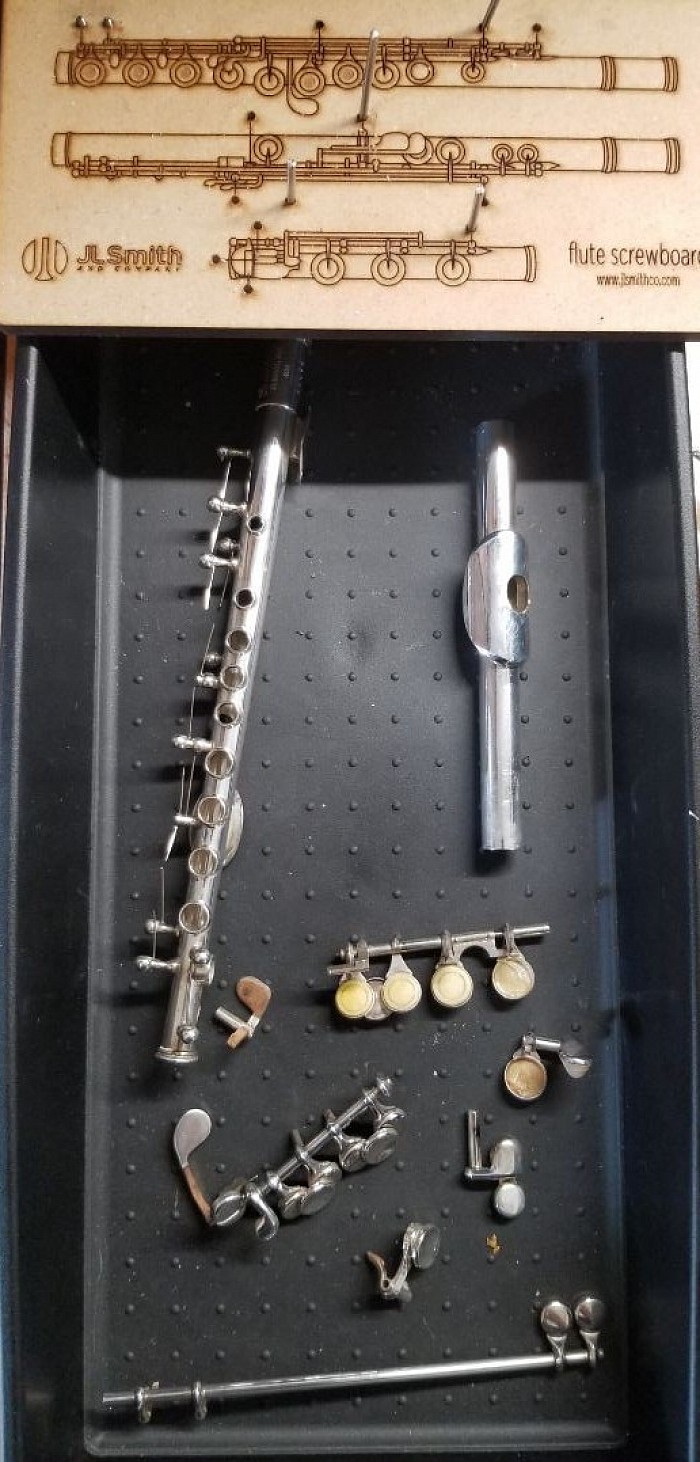 Piccolos and Alto Flutes
Piccolo COA - $225
Piccolo Repad - $450
Piccolo Overhaul - $550
Alto COA - $325
Alto Repad - $1200
Alto Overhaul- $1350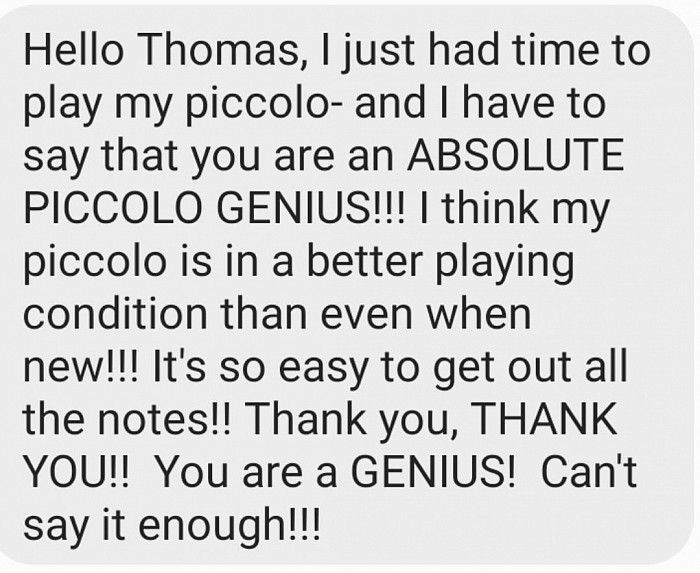 *In order to accommodate customers who prefer to bypass the waitlist for routine maintenance, a shop rate of $125 will be applicable. It's important to note that this rate specifically covers non-emergency repairs and standard maintenance services. For emergency repairs, which require immediate attention, they will always be given the highest priority to ensure swift resolution.